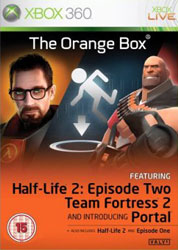 Also known as Portal & Friends.
The Half-Life 2 series and Team Fortress 2 are superb games, if slightly overrated in the case of the former. And while many game of the year nominations for The Orange Box can almost be justified on the criteria of sheer value alone, I'm quite comfortable nominating it on the basis of a single three-hour game that gets third billing on the box.
I'm convinced that one day looking at the (atrocious) cover art of The Orange Box will be like watching a film from the mid-80s, where the stars have faded or had a couple of stints in rehab and the only one still around is the precocious kid who got a tiny credit and now gets paid $15 million a time. Portal probably won't be a multimillion franchise but I can see it being sustained through mods and official DLC alone. It's already birthed several memes – usually an early sign of gaming stardom.
Of course there's a ton more in The Orange Box than just Portal. Half-Life 2, though overrated in my opinion, could probably just about justify the price alone and for those without gaming PCs this is the first decent console version; Episode One is average but short (just over three hours for me); Episode Two is probably the best of the HL2 series. I've heard that Team Fortress 2 is great, but my experience with it has been marred by the laggy Xbox Live performance and a couple of other multiplayer first-person shooters.
Even if I have complaints, there are no bad apples in The Orange Box. Everything in the box has its merits and when you consider the sheer amount of stuff in here (and I've already seen it on sale!) it's clearly one of the best of the year.