It only took me the best part of two and a half years, 45 games and 502 achievements, but today, I am a man.
By that, I mean I finally got my Gamerscore into five figures.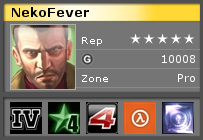 The one that did it was the 'One Man Army' achievement in the rather excellent GTA IV (impressions post coming when I get the time), with the 40 points that it yielded being enough to push me over this glorious milestone.
I'll have to live with the fact that I was playing the system a bit in order to get it (running backwards and forwards on the train tracks where the police couldn't get me for five minutes with a six-star wanted level), but I can deal with it. It's the gaming equivalent of grinding out an important win with ugly football.
Will I ever reach 20,000? Doubtful. At my current rate of achievement unlocking, purchasing the required number of games would surely bankrupt me, and I seriously doubt even the most optimistic analysts projecting any console to have a life that long. Oh well, at least I no longer have that four-figure black mark on my gaming credentials.