So while my 26-inch Samsung LCD that I bought in early 2006 was great for its time, back when an HDTV actually became affordable to a mortal and I was making less than the minimum wage, I'd decided a while back that I wanted something bigger and better.
I'd been thinking about LCDs in the 37-inch range and set myself an absolute maximum of £1,000 to spend, but when I found that decent models were well below that price (as low as £650 online), I decided to go all out. Why settle for an 8 ms response time and 8,000:1 contrast ratio when I can get 0.001 ms and 30,000:1? That's how I came to have such a magnificent beast as the Panasonic TH-42PZ80B – that's a 42-inch 1080p plasma, reviewed here – sat at the end of my bed.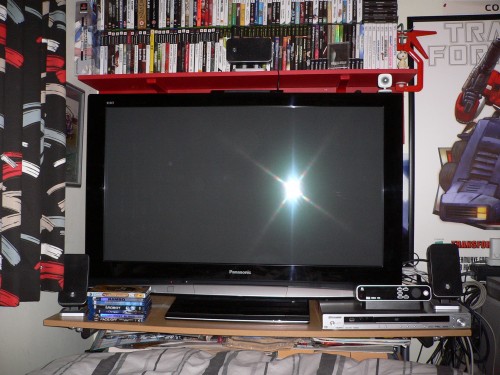 As much as I enjoyed having the old LCD, I found that when I was watching HD video material I wasn't really getting the full benefit. It looked sharper, but from my perch it didn't look worlds beyond an upscaled DVD. Indeed, a competent DVD could be almost indistinguishable, which meant dropping the extra cash on the Blu-ray/HD DVD over the standard DVD was done as much for being future-proof as anything. Not to mention that black levels of LCDs have never been great (check out this comparison), which annoyed me with low detail in darker films. Batman Begins on HD DVD, for example, has a highly rated video transfer that was frankly a bit grey and murky via LCD.
Compared to the old one, this is a revelation. Watching a Blu-ray in 1080p at 24Hz with no overscan at that size would convince anyone that it's worlds ahead of DVD, to the point where even my excellent little player upscaling to 1080p can't keep up anymore. My go-to demo disc, Pixar's Cars, looked amazing, with vivid colours, sharp detail and smooth motion, as did the recently acclaimed Narnia.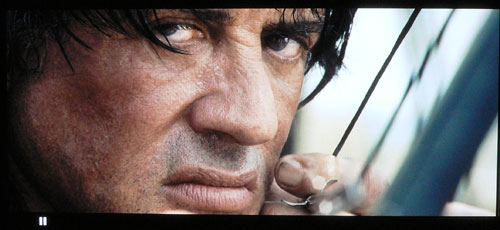 While the black levels are undeniably superior, it's not all roses, though. I've found that I'm one of the few per cent of people who can see the phosphor trails on plasma displays, a flaw endemic to the technology. Films are largely – though not entirely – unaffected, but certain games like Call of Duty 4, with its high contrast and fast movement, can almost look like one of those red-on-green 3D double images. Thankfully it's something that will supposedly fade as the panel wears in over the first couple hundred hours, but I'll suppose I have to get used to it. Even so, it looks dramatically better than any LCD that I've seen, so I'm going to take it as a worthwhile trade.
Still, given the choice between the grey blacks, slow response and poor scaling of an LCD and the phosphor trailing of a plasma (admittedly that only a small percentage of people can even see), it kind of makes you wish that reliable old CRTs weren't so bloody big.