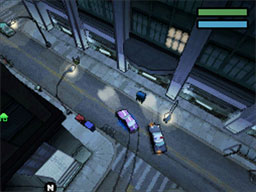 This might seem like a strange thing to say, but playing GTA: Chinatown Wars on the DS has allowed me to understand where people are coming from when they talk about how bad for kids the likes of Pokémon are. After all, it's essentially drug dealing.
Let's say you're at a convention where Nintendo is unlocking Mew for players – you'll have to excuse the outdated example since I haven't properly played a Pokémon game since about 2002. Your Mew is near worthless in a trade there because everyone has them, but if you take it back to the school playground – this is 2002, remember; I don't still hang around playgrounds with Pokémon to trade – it becomes invaluable.
In Chinatown Wars, you can, say, pick up some cheap weed where the Jamaican gangs are prevalent and sell it at a premium to college students. Or you might get an email from someone looking to offload some heroin cheaply, so you can take up the offer and stash it at your safehouse until someone finds themselves short of skag and will pay over the odds for some of your collection. Basic supply and demand, only here your deals will occasionally be raided by the cops. It's also a nifty method of investment, tying up a chunk of your money in cheap drugs that you can sell for thousands in profit when demand goes up.
I'll stop talking about that aspect of the game there for fear of scaring off the children – this site had already been blocked as pornography once by a major filtering company, incidentally – and just say that I love Chinatown Wars, and living out fantasies of making millions in a particular brand of Pocket Monster is just one reason why. The odd thing, considering the lengths I'll go to to defend GTA IV against its detractors, is that I really don't like the old GTA games. I bought the first when it came out out of some feeling of obligation – the playground rumours that it was imminently to be banned helped – and it was cool while the novelty was there, but I just didn't find them that much fun. It wasn't until I could get immersed in the city and Rockstar's humour in GTA III that the series really became something important to me.
That's why I'd been wary of this one, but you can't ignore reviews like these forever and it's been absolutely ages since I've played anything on the DS. In fact, the last two games that I bought, Apollo Justice and Chrono Trigger, haven't been played at all. My hoarding mentality strikes again…
Pokémon for the less innocent aside, Chinatown Wars is a huge amount of fun. While it may lack the radio stations and the portable version of GTA IV's Liberty City is more right-angled than you might remember, Rockstar Leeds has done a great job of cramming the experience into a DS cartridge. It looks remarkable considering the usual standard of 3D on the DS, the touch-screen minigames are yet to get annoying, and the slightly bizarre humour has made it intact. I mean, when was the last game on any system, let alone a DS game, that mentioned coked-out midgets and injecting heroin into your eyeball… in the same sentence? Genius.