The Metal Gear series gets a lot of criticism for its labyrinthine story and ridiculous plot twists – AIs controlling the world by filtering the Internet, anyone? – and I'm no huge fan of it either, but my time with Peace Walker has convinced me of something.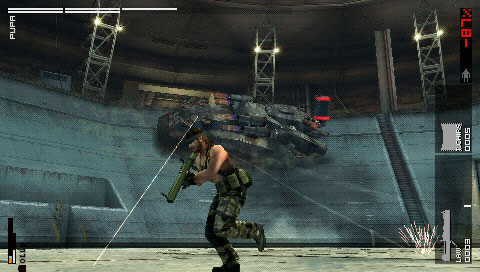 Like how Anakin Skywalker/Darth Vader is the real main character in Star Wars, the key player in Metal Gear is not Solid Snake but his 'father' and frequent antagonist Big Boss. Considering Kojima's love of pop culture the similarities in structure can't be a coincidence – great warrior with good intentions is manipulated into evil, while his son defeats the super weapons of the true villain's powerful organisation before reconciling with the father shortly before the father's death – but unlike Star Wars, I actually far prefer the prequels in the Metal Gear Solid series.
Snake Eater is the first stop, which is by far my favourite game of the lot. In its Subsistence form with a competent camera, at least – it's not a coincidence that every MGS game since then has used it – it offers some restraint in its story, a Cold War setting where the series' brand of nuclear paranoia makes sense, features some of the best boss battles in the series, infinitely more interesting environments than the generic warehouses of Solid Snake's adventures, and, in Naked Snake and The Boss, has the series' two best characters. Not to mention my favourite ending in any game ever.
The previous PSP game, Portable Ops, didn't really do it for me, but Peace Walker is built as a full-on entry in the series that would be as at home on a home console as it is on the PSP. It was originally going to be Metal Gear Solid 5, in fact, but don't let its demotion from the main series line-up make you believe that it's any less than those entries. It's up there with MGS3 in my opinion, and everyone should play it. Continue reading Metal Gear Solid: Peace Walker →