I trust everyone else had an excellent Christmas.
Shockingly, I got several new games. What was surprising is that all of them, with the exception of the free copy of Uno (oddly captivating) that came with the Xbox Live Vision cam that I also got, were Final Fantasy games: Final Fantasy XII on the PS2, Final Fantasy III on DS, and Final Fantasy V Advance for GBA.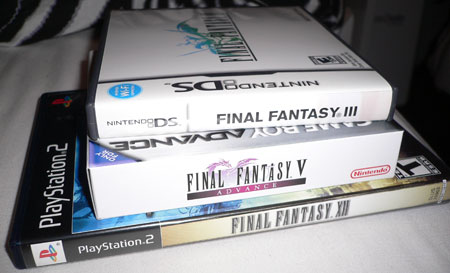 XII is an unusual one when coming from the fairly orthodox FFX. Final Fantasy XI has become the red-headed stepchild of the series and I bet whoever decided to make it a part of the normal chronology rather than a Crystal Chronicles style sidestory is living in a cardboard box somewhere now, but it's definitely had an influence on this. In fact it is an MMORPG…just without the MO. It has an entirely different MO, in fact.
I'm shocked by how much of a departure from FFI-through-X this game is. Random battles are gone (hooray!), enemies can be seen on the map and avoided entirely like an MMORPG, and combat plays a lot like Knights of the Old Republic. And if the whole thing didn't play enough like what is traditionally a PC genre, you can get your hands dirty with what is effectively a scripting language to control the rest of your team. It sounds weird, but that's one system that I really like, and one that proves essential to real-time control in a game like this.
This is another one of those games that shows how much life the PS2 could have had in it. The opening town is vast, and your view isn't constrained by prerendered backdrops and fixed cameras because the right stick lets you look anywhere. The FMV is often spectacular, voice acting is generally very strong (Migelo is a particular high point), and even the facial expressions in real-time cinematics are better than many prerendered scenes that I've experienced. I can't wait to really crack on with it.
Last year I was surprised by how thoroughly enjoyable I found FFIV Advance and thus far FFV seems similar. It's a strong Final Fantasy game in its own right and the Game Boy Micro is, in my opinion, the perfect format on which to play a game like this. I keep it in my pocket and can forget about it until I find that I have ten minutes to kill. Admittedly it's not designed with quick blasts in mind, but Square has thankfully included a quick save feature. Nice work, and I can't wait for Final Fantasy VI Advance.
FFIII is the one that has left me the most unimpressed so far. I didn't like FFI and II on the GBA and this seems to be in that vein, so maybe it was with FFIV and the SNES that the series really picked up. It looks cool on the DS and I'll certainly give it a fair try (I've only played about an hour so far), but it seems like it was the gameplay more than the graphics that needed the update. Consider my opinion reserved for now.
Now I just need to find time to play all of these massive games. They'll have to wait until Zelda is done, though!