I found this advert for Command & Conquer: Red Alert 2 in an old FHM, circa 2000, when I was in the barber a couple of years back, and only now that it's started to fall apart after I liberated it (I did ask first) have I got around to scanning it for posterity. I thought it might be of some interest as a curiosity: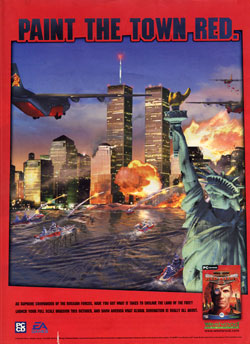 (click for a larger version)
I'm a bit surprised that I've never seen it online before or since as those vitriolic 'EA is teh evil' posts always get hits. Quite alarming in retrospect and I can only assume that it seemed like a good idea at the time.
Isn't coincidence a strange thing?