Remember when I said that Killzone 2 was the new Battlefield? I was wrong. Battlefield is still the new Battlefield.
This series is an old favourite of mine, going back to when I first got a gaming PC and played hundreds of hours of Battlefield 1942 and its expansions. It's had its ups and downs, but few gaming franchises have reached the heights of the sublime Battlefield 2. That was the end of my affair with it, though, because after that the likes of Modern Combat, Battlefield 2142 and Bad Company just seemed like a step down.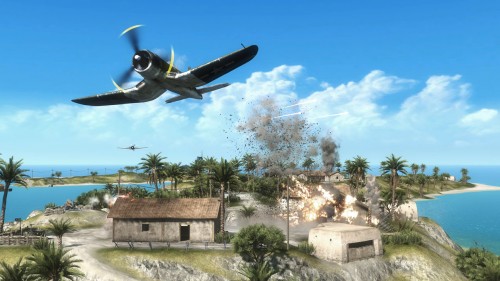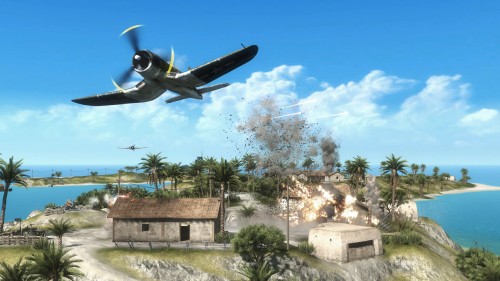 This, though, taking three of the maps from 1942 and porting it all to the Bad Company engine – complete with the real-time destruction that it entails – for only a tenner, is genius.
I see a lot of criticism doing the rounds, calling it some variance of Battlefield for babies, often with a dig at the console audience in there for good measure, but I don't get it. Maybe it's just that I'm a whore for this kind of games, putting countless hours into the good Battlefields as well as the decent pretenders like Warhawk – still the best game on the PS3, by the way – but I can tell that this will be a favourite for a long time. I still play Warhawk because it's perfect for dipping in and out of, and having it there all the time, launchable from the hard drive, is extremely conducive to dipping in and out occasionally. Keep it fresh with new maps and you'll keep me coming back for a long time.
Yeah, this only has three – soon to be four – maps and three character classes. Does this damage the game? Not really. This has been planned as a trim and accessible version of Battlefield, designed for new players and veterans, and everything from the consolidated classes to the infinite ammo – it recharges in the same vein as health now does in every FPS ever created – reflects that. I suppose you could argue that it's 'dumbed down' if that's your thing, but it hasn't really affected my enjoyment. There's something to be said for keeping things simple when your base product is already so good.
The first few days were pretty rough going, with a delightful combination of the expected DICE bugs – BF1942 still had launch bugs after gigs of patches – and EA's always-wonderful server infrastructure, but the teething problems seem to have been ironed out and it's smooth sailing now. It's quite stable and things should continue to improve fairly rapidly, so this one gets a definite thumbs up.