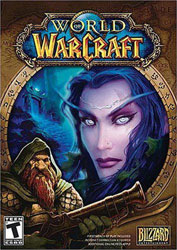 Many of the players may have started with this in 2004 but it didn't come out here until February and I didn't get it until October, so it definitely qualifies for my 2005 list.
Anyway, my experience with MMORPGs and online RPGs in general was limited before this year, with only a fair amount of Phantasy Star Online and a dabble in the betas of City of Heroes and Guild Wars under my belt, but when I got this for my birthday it really showed me how great this genre is. Trust Blizzard to do it so right first time.
As I type this I've suspended my account so that I can enjoy my 360, but after two months I'm pushing 100 hours of play, a number that only a small handful of games come close to with me, and once I jump back in it will show no signs of abating as I get more drawn into the more interesting quests and plethora of group activities (I've barely dabbled in instances with groups of other players), money making schemes, and general community aspects that the higher levels bring. It really says something about the immensity of this game that despite all the time that I've poured into it, I've only really played one race out of six (all with different paths and quests) and have set foot in maybe ten of the game's fifty-odd zones as quests and the urge to explore begin to expand my horizons.
On paper this, like most MMOs, looks fairly monotonous, but somehow the great community and personality that Blizzard have imbued their world with (it might look like generic fantasy in screenshots but believe me, it's not) combine to make a game that's maddeningly addictive but never less than a wonderful place to be. I dread to think what the expansion will do for me but in the meantime this is my game of the year. Easily.