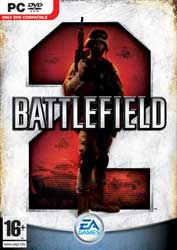 Admittedly I have no basis for comparison, but I'd imagine that no game makes you feel like a soldier the way that Battlefield 2 does. For all it's flaws, of which many are fixable and should have been fixed by now (this is a Battlefield game so I don't know what I expected), few games have ever immersed me as much as this. Team-based multiplayer FPS always do well with me, but this one just took the idea and ran with it, and thankfully didn't make it yet another WW2 FPS.
The basic game mechanics are essentially the same as in BF1942 and Vietnam in a modern setting, but thanks to vastly improved infantry combat, an overall balance to the weapons, and a focus on urban warfare I loved this game and really wish for the next one they'd actually finish it before release. The lack of patch support for the bugs is the main reason why this didn't place higher.
Most games make the single player the focus of their gameplay and generally that's the best idea, but with BF2 I can think of few gaming experiences more satisfying than joining up to a 32-man army and moving, street by street, into an enemy city, with teamwork and the use of all your combined talents and different weapons as the best way to success. A heavy weapons guy keeps the enemy armour occupied while the machine gunners pin down the infantry so that your own infantry can outflank them and capture their base: there are so many possibilities to how each game plays out. and it makes the list in spite of the problems simply because the core gameplay is so well done.