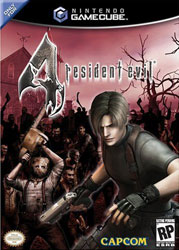 Speaking of sequels that don't play it safe, here's another one, although the Resident Evil name on the box obviously helps one to achieve financial success. Even so, the risk with making such big changes to such an established formula can't be overestimated.
As revolutionary as Resident Evil was, the gameplay has dated fast in this world where action shooters and 3D environments rule. Some fundamental changes later – the new perspective, the death (again) of the trademark zombies, a whole new threat that isn't Umbrella – and they have this, the latest RE game that makes a huge deviation from the established formula whilst still leaving some of the hallmarks that make this unmistakably Resident Evil and the best GameCube game in a long time.
The precision gunplay, creepy atmosphere (helped by some of the most impressive visuals of this generation), and excellent pacing make this an all-time classic and a clear choice for one of the best of the year. It was tough to relegate to second, believe me.