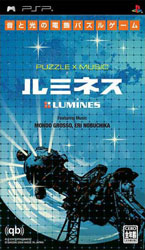 I own the Japanese version of Lumines (pictured) which came out in 2004, but since it came out everywhere else and I bought it in 2005 it gets in, and deservedly so. It's one of the few challengers to the Tetris throne that even comes close, and it's still the best game on the PSP by some way.
Lumines is essentially your common or garden falling block puzzle in which coloured blocks fall from the top of the screen, and by matching up four or more of a single colour they'll be removed by a bar that sweeps horizontally across the screen at varying speeds. It's as simple as all the best puzzle games and is maddeningly addictive (even when matching your high score can take a couple of hours of solid play), which is really all you need to make a good puzzle game for a handheld.
That's not all you get, though. Like Mizuguchi's last game, Rez, music plays a central role in the game, and every few levels you'll come to a new "skin", changing the backgrounds, block colours, speeds, and the music. It's the same sort of music that you've seen in Rez (good thing) and makes headphones a necessity to fully enjoy the hypnotic beauty of the game. Even if saying that that this is the best game on the PSP isn't really high praise at the moment, saying that this is one of my favourite puzzle games ever made certainly should be.