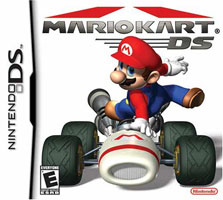 I don't think I'd be alone in saying that Mario Kart DS is my favourite game in the entire series, and when a series carries a name as big as Mario Kart that's no small praise. Whereas Mario Kart 64 evolved Super Mario Kart, I felt that Mario Kart Super Circuit was a step backwards and Mario Kart Double Dash felt gimmicky, this one felt like a true step forward.
The focus was brought back to the tight and responsive handling and the weapons which have been tweaked and balanced well over the series, the graphics sit somewhere between Mario Kart 64 and Double Dash, and the power of the DS has been used to add much more interactivity than the last great one, Mario Kart 64. On top of that they were clever enough to throw in a nice selection of classic retro tracks (although some of the choices of "classics" could be debated), fully-featured multiplayer with one copy of the game, and the game's huge new addition – online play.
Nintendo were slow to adopt online play but they certainly made a good choice of a first game to do it with, and despite teething problems on their first attempt (the overly safety-conscious friends system, the lack of punishment for quitting when losing to protect your record, etc) they did a great job. Not only does this make it one of the best games of the year, it's also proof positive that the DS is a serious system that isn't only about touch-screen minigames and half-arsed console ports.