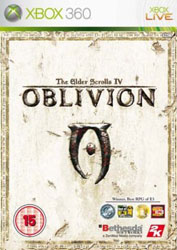 I love my immersive, coherent worlds, me. Make a good one of those and you're halfway onto my top ten of the year list. One of the best ones won last year, in fact. This is also one of the best.
The scale of Oblivion is the amazing thing. As I type this I'm playing Final Fantasy V Advance, originally released in 1992, and it strikes me that what was a large game then can now be done in full 3D, fully voiced with proper actors, and just looking absolutely phenomenal. It had technical issues that were maybe symptomatic of overreaching on current hardware – or possibly unfamiliarity with it – but the magnitude of Bethesda's vision was just phenomenal.
But give an ambitious and talented team the time and budget (and possibly the Lord of the Rings licence), and this shows what you can get. The moment when you first walk out of the sewers and up the hill – possibly getting held up or attacked by an ogre on the way – to look back at the city you've just come from is burnt indelibly into the memories of everyone who saw it, whatever they thought of the game.
Memorable towns and innumerable settlements and landmarks that can be endlessly explored make a great game, marred only by some technical quibbles. It's unmissable.