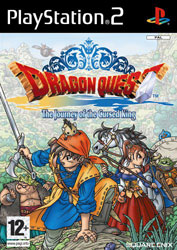 The next one may be coming to the DS, but Dragon Quest VIII certainly managed to do the PS2 proud. 2006 has been a good sendoff for Sony's retiree with some of the most impressive games in the console's history, and this is certainly up there.
Rather than reinventing the wheel as the Final Fantasy series is wont to do, DQVIII takes quite the opposite path. This is about as traditionalist as can be. The admittedly stunning graphics are essentially a flashy wrapper for gameplay that has been all but unchanged since the beginning. No ATB, minimal battle animations, random battles coming out of its arse, and a blank expression when quizzed about anything as elaborate as a job system.
The basics are as solid as can be after so much refinement, but it's the setting and visuals that provide the biggest step forward. Let nobody tell you that cel-shading is dead, because this game is one of the best showpieces yet. The game takes place in a beautiful fantasy world painted mainly in primary colours, as far from the dystopian future/steampunk settings of many contemporaries as can be. It's one of those games that can visually transcend the HD barrier that newer consoles are hastily building over the past.
Too bad that such a top game couldn't forge a market outside Japan like the Final Fantasy series could. Maybe that's what they're hoping for with IX.