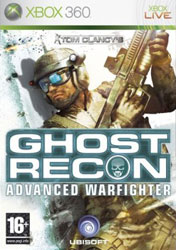 Ah, the token Tom Clancy appearance. You just can't stop the guy.
Deserving credit both for turning me onto the Ghost Recon series (or sub-series?) and helping to end the terminal drought of software for the 360 earlier this year, it still stands out as one of the games that looks and plays like something really next-gen. Don't agree? Just look at how dreadful the Xbox and PS2 versions turned out.
As well as looking stunning and delivering a believable near-future setting, GRAW also brought with it one of the better multiplayer suites of the year. As well as the basic deathmatches, this included the immensely satisfying co-op mode with support for up to 16 players: the mode singularly responsible for the odd number that is my gamerscore. Annoying, but still top fun.
Like Rainbow Six Vegas, GRAW did a superb job of making what had previously been somewhat esoteric games and making them accessible to us normal people. And once the campaign was out of the way it became one of the few games that could tempt us away from COD2 multiplayer. That takes some doing.