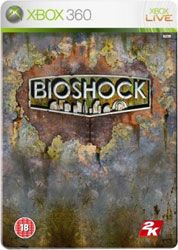 I almost get the sense that BioShock is destined to be overlooked, coming before the big guns of the year and really before the Christmas season began. I hope that I'm proven wrong because it deserves all the more recognition.
Since I seem to be taking this list as an opportunity to nitpick the best games of the year as much as to celebrate them, I'll say that the mechanics of BioShock left me slightly disappointed. It didn't feel like the open-ended jazz solo with guns that it was made out to be, and the showpiece battles with the Big Daddies happened too frequently to be the events that they could or should have been.
Nonetheless, Irrational/2K Boston is clearly one of the best in the world when it comes to creating an environment. It's here almost solely on the strength of Rapture, such a glorious creation that the beautiful and tragic underwater metropolis becomes the impetus to keep playing. The design is so inventive, so different to what we expect from games these days. It might seem like a strange comparison to make, but it reminds me of how the sense of place in Shenmue enabled me to overlook the flaws and want to spend time exploring.
Rapture makes this one of the most unsettling (not scary) and haunting games of the year. If you haven't played it yet, don't let the torrent of quality that we've had over the last few weeks overshadow it. It's one of the best.