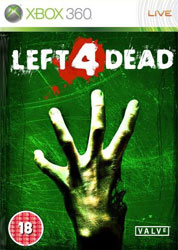 Co-operative multiplayer has been an increasingly common feature in shooters, allowing teams of players to experience the main campaign or even whole new ones as a team and bringing in better moments of both teamwork and, more often than not, betrayal than any scripted NPC could possibly do.
Left 4 Dead is one of the few that makes this the whole point of the game, to the point that it's barely worth playing if you're a completely solo player. Assuming you have the requisite network connection, though, I can't recommend it enough. As both a loving pastiche of zombie movie stereotypes, even down to the deliberately cheesy taglines of each 'movie', and a game that few can touch in terms of the threat level presented. You may always have your buddy for comfort, but hearing the wails of a nearby Witch never fails to frighten.
Yes, there's not a lot of raw content here, as all of the campaigns can be burned through in under ten hours, but it's as close as you're ever going to get to that hyperbolic statement that it's different every time actually being true. The mechanics of how you pass through the level's challenges never change, but you genuinely won't know what's coming next thanks to the genuinely evil AI Director.
It's happened to me where we've had a generally easy passage through the level, and we're on the home straight. The location of our last stand is in sight, but then we hear the telltale sobs of a Witch and spot her, right in the middle of the only safe route through the oblivious zombies around us. We back up and prepare to sneak past one at a time, until we hear the roar of a Tank approaching us from behind. No healing items, limited weapons, and stuck between a big fucking rock and and a hard place with claws.
The game may hate me, but I can't help but love it. That's why this year's biggest surprise hit comfortably makes the list.