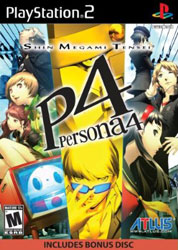 Considering that this was the second Persona game that I played in 2008 and that it had to live up to the high standards of its predecessor, the standard that Persona 4 manages to hit is all the more remarkable.
I was pretty much guaranteed to like this one as soon as I saw the small-town Japan setting – I like another game with a similar setting, in case you didn't know – and although I do indeed like that better than the more anonymous city of Persona 3, there are other reasons why I like this one better. There's no more shooting oneself in the head to summon demons, but you can't have everything.
It's not far removed from P3 in terms of gameplay and structure, but all of its changes are for the better. As well as finally letting me see what a spell does from the menu, finally removing the need to memorise the functions of moves with such descriptive names as Pulinpa or Marakukaja to avoid the potentially harsh punishments for using the wrong one, there's more variety to the dungeons, better characters, and a fantastic translation.
I mean, somehow the translation team managed to take a cute bear-thing called Teddie, who's with you throughout and talks in frequent bear puns, and not make the whole thing un-bear-able. Sorry… but it's still an impressive feat of translation in an already genuinely funny script.
So a round of applause for Atlus, sending out the PS2 with one of its best RPGs and what will surely be – I'm sure that I said this about God of War II and Persona 3, but I actually think it's true this time – the console's last truly great game.