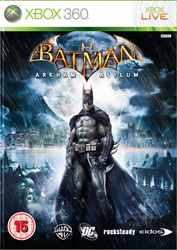 One thing I can say with absolute certainty is that Batman: Arkham Asylum was the surprise of 2009. I had absolutely no expectations until the reviews started flowing in and, as a Batman fan, I fell in love with it almost immediately upon playing it.
Like Christopher Nolan's films, it absolutely nailed the source material. It didn't take the easy route and just copy his work, but rather picked the best bits from a variety of Batman media and created its own mythology to fit the game. It's a common trick of comic books – good luck negotiating the minefield of different storylines and origins if you're getting into a long-running character like Batman – and not many of their gaming adaptations seem to have picked up on it. Not falling into a common trap like that was only the first step, though, and thankfully Rocksteady built a bloody good game on top of it.
Arkham Asylum ticks the same boxes that made me love the Splinter Cell games, with the frequent rooms where you're isolating and stealthily nabbing enemies as their buddies get more agitated really doing it for me, and I loved the endless character cameos.
It also helped that it was insanely pretty, remaining one of the few Unreal Engine 3 games not to just look like Unreal Tournament III or Gears of War. There was a fantastic sense of place and the plethora of Easter eggs and things to find – a Metroid-esque progression system of opening new areas in old stages when you gain upgraded equipment – that made exploring a joy. Throw in the way that it visually revamps pretty much everything towards the end and you have a massively impressive end product.
What I think it was, ultimately, was that you felt like Batman. If a Batman does this and is otherwise in any way competent I'm going to like it, and Arkham Asylum is more than simply competent. Bring on the sequel.