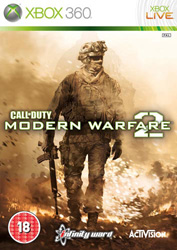 Brash? Oh yes. Subtle? Absolutely not. Like Michael Bay made a video game? Are you telling me he didn't?
The launch and sheer dominance of the world's friends lists of Modern Warfare 2 may have humbled 2007's mental Halo 3 launch, and the run-up may have been mired in controversy after controversy as Infinity Ward showed signs of taking after its parent, but if I put that aside, what must surely be the gaming event of this generation delivered.
Even with such a malign influence standing over it, Infinity Ward took what we already knew Call of Duty to be capable of – massive, action-packed, scripted war scenarios – and blended it with a ridiculous action movie to make something that was amazing fun. It wasn't nearly as clever as it thought it was, to be honest, and I still maintain that that scene could have been handled better, and there's maybe an argument that after the generally realistic World War II setting makes it look even more ridiculous, but it's fun, and ultimately that's all that matters.
Multiplayer, too, although it seems to be marred by annoying glitch after annoying glitch, is phenomenally good and will be a staple of my 360's drive for months to come. I've already played that mode more than most full games, and that's discounting my one and a half (currently) playthroughs of the campaign and mere dabbling with Spec-Ops mode. For all the criticism of its price hike – and I'm sure someone will disagree with me here – it's the game that, through amount of content and time that will be spent on it, came closest to justifying it.