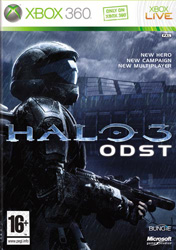 Can an expansion qualify for a GOTY list? Is Halo 3: ODST an expansion at all? Legitimate questions all, but I think that ODST, besides being a standalone release, is different enough to qualify. To be honest, beyond name recognition, did it even need to be painted as part of Halo 3 at all? Most of it happens concurrently with Halo 2, after all.
Semantics aside, I thoroughly enjoyed ODST, even as a relative disappointment after the massive event that was Halo 3. It's partly a victim of Call of Duty usurping Halo as the 360's premier franchise and, I think, partly down to people simply getting bored of the games, and I hope that Reach is different enough to win people back around.
So yes, a disappointment. But playing it, I was reminded of how much I enjoy Halo. To say that it's been made irrelevant by Modern Warfare is extremely unfair because they play very different games, and I love Halo's unscripted, free-form battles just as much as Infinity Ward's brand of breakneck, scripted Hollywood action. ODST further courted my affections by somehow feeling more like the original, possibly down to the added vulnerability that comes from needing health packs, and it was a welcome challenge after playing through two Halo games in which you're the baddest motherfucker in the galaxy.
Plus Firefight was pretty awesome. Expect to see variants of Gears 2's Horde mode showing up throughout 2010's shooter line-up.
Halo still needs a kick up the backside, though. Most will pick Modern Warfare 2's success as the thing to do it, but I think that me only putting it seventh on this list will be the thing to do it. Wait until Bill Gates sees this…