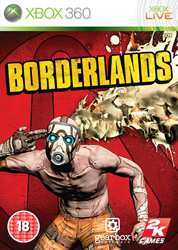 I don't have any more categories than an overall top ten when I pick my game of the year, but if I was going to nominate the best value purchase of the year it would certainly be Borderlands. It cost me less than £18 and I got far more out of it than most full-price purchases. And thankfully it's not been completely overlooked either, as it's the fastest-selling new IP of 2009 and has sold handsomely.
It's one of those surprise packages that I didn't see coming at all, looking like nothing more than a random gun gimmick that got a quick facelift to stop it being completely lost in the shuffle as another FPS with RPG elements set in a deserted wasteland. How wrong I was. It's a genius idea, taking the best bits from first-person shooters and MMORPGs and blending them masterfully to create something that can be played alone or with friends, and is also immense fun whichever way you do it.
I have friends who wouldn't touch an MMORPG with a ten-foot pole but fell right into Borderlands, in one case spending over 15 hours with it over a weekend, and I'm really excited to see where the framework is used now. We know that a sequel is coming and that 'Borderworlds' has been trademarked – the fact that it's plural is the really interesting thing in that title – and more of the same, perhaps with some more varied environments and a bit of visual character customisation, would be brilliant and a certain purchase for me, but Gearbox should really take it to its natural conclusion as a true MMOFPS. This with an active and populated world could be the MMO recipe that finally manages to click with me.
So well done, Gearbox, for coming onto this list with the latest entry and being one of the year's genuinely nice surprises. Here's to Borderworlds.