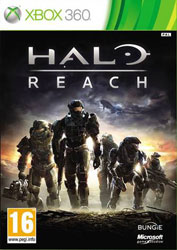 What is likely to be Bungie's last entry in the series that it grew from niche Mac RTS to one of the biggest FPS franchises in history proved to be a fitting goodbye. It was almost like, freed of fitting another game into the Master Chief's story and carrying the Xbox brand now that games like Gears of War can share the load, Bungie was able to flex its creative muscles, and while I'll concede that it's still super soldiers killing aliens, it was the most fun I've had with a game in this series since I first took it online.
Multiplayer-wise it's certainly my game of the year, and I'll take this straight challenge of who knows the maps and weapons better than the next guy over the unbalanced quick fix of Call of Duty, let down only by a limited map selection. Halo 3's integration of multiplayer and its lobbies into everything is only just coming into touching distance of other games and the setup is just as formidable here.
Going back to the point about originality, it's true that Reach doesn't have a lot of it in its story. Nonetheless, as a Halo fan I adored it. Seeing a team of Spartans doing what I'd so far only read about would have been enough to make me go a little bit in my pants but, cliched as they were, I cared when they were inevitably cut down. Set against such a beautiful and varied backdrop and with so many memorable moments – the level that takes you from ground level into a space battle and on to low-gravity combat in a vacuum before its explosive ending is an obvious high point, but the melancholic final moments also deserve love – I have to give Reach as both my favourite Halo game and one of 2010's greatest.