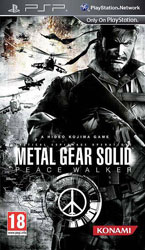 Considering the esteem in which the franchise is held, Metal Gear has a lot of disappointing instalments. This, however, wasn't one of them, following up the best in the series – that's MGS3, for those who aren't keeping count – and absolutely stomping over the letdown of Portable Ops. This was a proper Metal Gear Solid game, originally planned as MGS5, and it's a strong contender for my favourite of the lot.
Even if the story was mostly utter rubbish, taking a huge dump on some of the best characters, if you let that affect your enjoyment of Metal Gear games they'd never get anywhere near these lists. Cramming console games designed for dual analogue sticks onto portable systems rarely works, and indeed here it takes a period of acclimatisation, but in no time at all I had my head around it and, by the end, I found myself hoping that some of this game's advances will get ported back to any future MGS games. This is the first one in which I've been able to make use of the CQC system, for example, now that it's been slimmed down and the need to regulate pressure on the buttons as well as direction on the stick has been removed.
It's looking increasingly likely that 2010 could be the PSP's last year as Sony's primary handheld console, and despite some of its most impressive games coming out – Persona 3 Portable also deserves a mention – it's been an ignominious end, with mediocre hardware sales and almost non-existent software ones. This, though, must go down as evidence that the system had more to offer. Aside from its segmented areas – methinks as much down to hardware limitations as it is portable game design – this could have quite easily been a PS2 game, and as that seems to have been the Holy Grail of PSP development since the beginning, it's one of the biggest compliments I can pay to one of its last great games.
What a finale, though, both to the Metal Gear Solid series and the PSP's viability. I've had rocky relationships with both, but they'll still be missed.