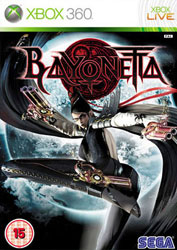 Considering that I generally don't get on with the genre at all, the fact that I liked Bayonetta as much as I did is a minor miracle. Or maybe it wasn't, because the Platinum Games connection always seems to guarantee a deep and polished experience, regardless of genre, and Bayonetta trumped the rest in almost every respect.
First and foremost, it played wonderfully, with accessible, balletic combat and movement that flowed hypnotically, whether you were a button-mashing beginner – or a God of War fan, natch – or took the time to learn it. And I loved how the deep combat mechanics avoided a common pitfall by offering a carrot rather than a stick – mastery of the dodging system conferred a benefit, rather than punishing those who failed to use it properly.
Of course, the glorious presentations deserves plenty of credit. Beyond looking gorgeous, it was a love letter to Sega gaming – within minutes you're driving along to Magical Sound Shower – and never failed to impress when it came to scale. Show me another game that ends with you riding a motorcycle up the side of a rocket into space to fight God, and I'll thank you because I want to play it.
I wouldn't have given Bayonetta some of the more excessive scores that it obtained this year, but it stands as certainly the best in breed for this year, and is up there with Ninja Gaiden and Devil May Cry as one of the few that I might return to without a gun to my head.