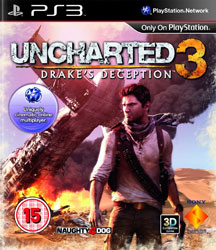 In what was a quiet year for me, my ambivalence towards Uncharted 3 was one of the few things that got me on my soapbox. In that case, its inclusion in this list is either, like Gears 3, emblematic of the strength of the series, or possibly an indication that, outside of an obscenely packed tail end, the year wasn't all that great for gaming. While there's some truth in both answers, and I stand by my assertion that it's an overrated game, there was enough to enjoy in Uncharted 3 to say that it's mostly the former.
The fact that I found it disappointing is less a criticism of this game and more unmitigated praise for Uncharted 2, which still is peerless as a piece of cinematic action; if this had topped it, it would have been far more surprising. My complaints aside, it was just as much of an achievement for in-game characterisation and blending gameplay and cinema – even if the ratios were occasionally somewhat off, you had to admire it technically during sequences like the plane crash and its seamless transition to the similarly brave desert sequence – as it was a great action game… when it worked. It didn't quite reach the astronomical highs of either of its predecessors, but it's still fresh enough and done with such panache that it makes the lack of creativity in most action games all the more obvious.
What Uncharted 3 has left me with more than anything is anticipation for Naughty Dog's recently announced new project, The Last of Us. I never much cared for ND's games until this series, but talk of resources being diverted from Uncharted to the new game has me very, very excited.