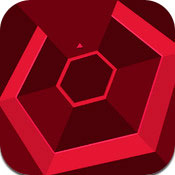 I have no requirement for a mobile game to make this list every year, but it always seems like there's one that captures me in an irresistible way. Last year there were two, in fact, with Tiny Wings and League of Evil making my best of the year, and back in 2010 we had Infinity Blade as well. League of Evil is the outlier there as perhaps the only example of touch controls working for traditional action gameplay, but its success doesn't change my opinion that mobile gaming should play to its strengths.
Super Hexagon did that, ticking all the boxes: bite-sized gameplay; simple, responsive controls; compulsive high score chasing against your friends. That you need to be extremely good – and some people really are – for a game to last more than a minute makes it perfect for the mobile format, yet the urge to keep playing meant at the height of my addiction I was frequently exhausting my iPhone's battery on it.
It's since come out on Windows, where it's dirt cheap, but I'd encourage you to pick up the iOS one, because this is made for on-the-go gaming where the purity of its score-chasing gameplay can shine. There's also standard Hexagon, a cut-down Flash edition that lacks the benefits of either full-fat version but is still a fine demonstration of what it's all about.
I complained that XBLA might be leaking indie talent to iOS, but I don't know why since I'm equipped to enjoy games on either. If Terry Cavanagh was making games for Live Arcade we wouldn't have this, so it's okay with me.