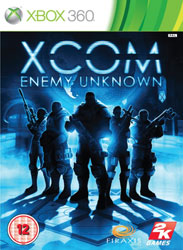 Hard to believe that a year ago we didn't even know this game existed. On this day in 2011 the only XCOM revival on the agenda was the FPS version, which I think looks fairly interesting but has become a whipping boy for this generation's ill-advised attempts to reboot cult PC classics for the Call of Duty generation.
This was pure fan service, though. Seriously, if you'd asked hardcore XCOM fans – is there any other kind? – what they'd like from a modern take on the franchise, I can't imagine the result being far from what Firaxis delivered.
Praise must be lavished for how it achieved this while making a game that's still enjoyable and eminently accessible for newbies like me. I dabbled with the original UFO when I first got Boxer installed – that app deserves some kind of award for making DOSBox usable to humans – and found it absolutely impenetrable and, while I have no doubt that there's a superb game in there, I suspect it's something you had to be there in 1994 to really appreciate.
By designing it to modern standards, introducing mechanics gradually so that the player's skills grow with experience, this Enemy Unknown is accessible without massively dumbing down the core strategy or toning down the unforgiving difficulty. It should go down as an example to both gamers and developers – to the former as proof that the buzzword 'accessibility' isn't necessarily the kiss of death for challenging gameplay that it admittedly often is, and to the latter as a blueprint for how to do it.
It didn't do COD numbers, but it looks as if 2K had realistic expectations and is happy with the commercial performance. That bodes well.