When I moved house back in March, the opportunity came up to forgo one large bedroom in exchange for two smaller ones, and given that most gamers would love a dedicated room for their televisual pursuits, I went for it. I didn't actually own any furniture of my own, though, least of all storage for my large collection of games and DVDs, so there was some necessary investment there.
First order of business was a TV stand, and I went for this glass model from Levv. I actually paid a little less than what it's going for now – just under £60, if I remember correctly – but it's still excellent value and is a nice stand. Just don't expect any help when it comes to assembly, because the instructions aren't great.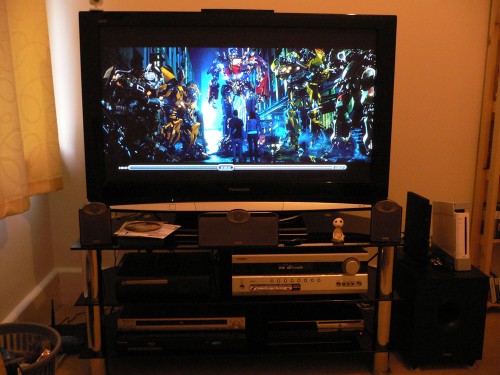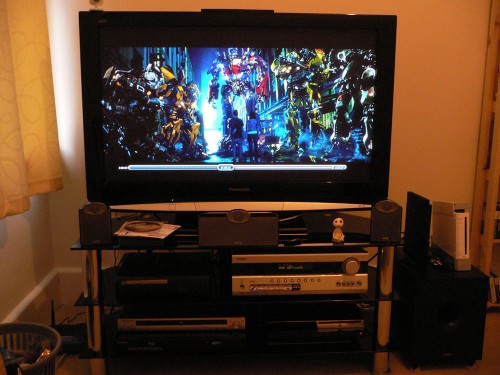 I've recently added a dedicated Blu-ray player, a Samsung BD-P3600, to the mix, mainly to reduce wear on the PS3's drive but also to give me access to region B stuff in these times when it's suddenly more expensive to import films for my US PS3. It's also faster and quieter than a PS3 and shares many of its media features, which is nice. I took the opportunity to jettison my faithful old Logitech sound system for an Onkyo TX-SR507, which has four HDMIs and handles all the new HD audio formats, and a set of Tannoy SFX 5.1 speakers. I'd been wanting to upgrade that for a while now and this seemed like a good time. With the Blu-ray player I was fast running out of HDMI inputs on the TV anyway, so it saves me finding a bigger HDMI switch as well.
I'm seated on a two-seater cream leather sofa, which I paid a whole £20 for from a friend. Certainly not the most comfortable I've ever sat on, but more than workable and fits nicely into the room. And just to tie it all together I've got a framed BioShock lithograph on the wall.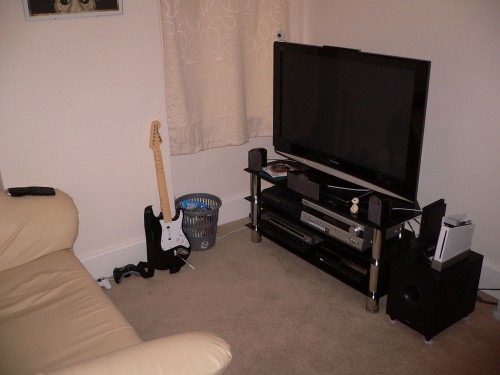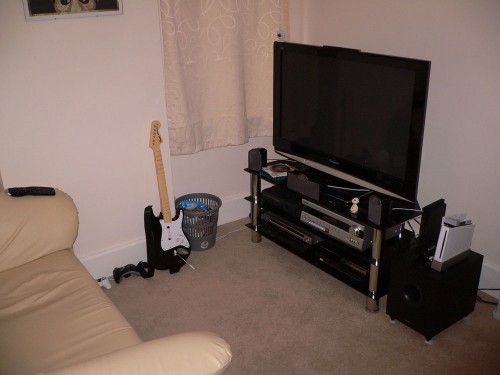 Probably the biggest problem that needed fixing was disc storage. Previously my games and films had been either three deep in a repurposed bookcase, three high on a shelf above my TV, or in a modified cupboard with shelves that had literally collapsed under the weight of the old games and systems. I'm only keeping games that are playable on current systems immediately accessible in addition to my DVDs and Blu-rays, and if I'm allowing room to grow it meant that I needed space for around 1,000 discs. It's pretty hard to find anything of that size, and buying a few of Ikea's finest would quickly get expensive.
Instead, I spent part of the May Day bank holiday with my dad, building this. I managed to catch my thumb pretty nicely with a saw in the process, but I think you'll agree that the results are worth it – and I literally poured my own blood into it. Throw in some of the deluxe Transformers and a few other boxes and tchotchkes for decoration and I think it looks pretty nice.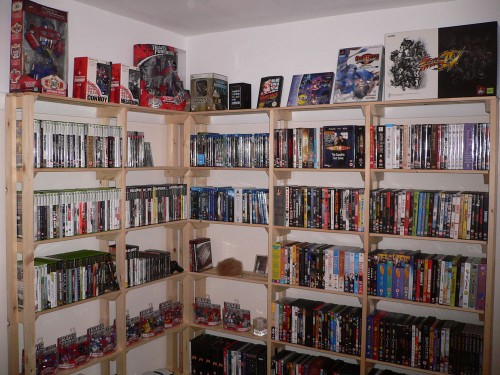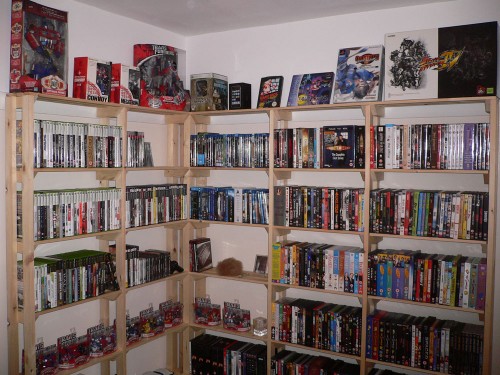 There are another three shelves off the bottom there, which house more DVDs, my Nintendo games, and my Street Fighter IV Tournament Edition arcade stick, but unfortunately my old camera doesn't quite have that wide of a lens.
This whole endeavour was a long project that ended up being more far-reaching than I might have envisioned, then, but I'm certainly happy with my little gaming den.