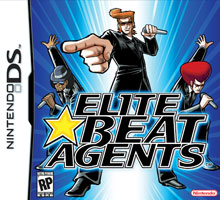 The almighty Ouendan's sequel/remake/bastardisation (take your pick) may not manage those heady heights, but it certainly deserves a place on here. What could easily have been a cynical rehash of a cult classic kept what made the original great and managed to forge a personality of its own.
I don't like it as much as I did Ouendan, possibly because that game came out of nowhere without any expectations whatsoever, and to be fair I was probably predisposed to not liking this as much. Inis did a great job of keeping it faithful to the style of Ouendan but just having English text and Madonna and Avril Lavigne over impenetrable Japanese and bands you've never heard of takes something away from it. I maintain that all an English version needed was a menu translation, but that's probably why they don't let me make games for Nintendo.
Despite the shortcomings, EBA makes the list because it builds on an extremely solid base and still does a good job at something that – let's be honest – was never going to please all of the fans who imported Ouendan. It's still a hell of a lot of fun and well worth picking up, especially if the original was a bit too "out there" for you.