As I mentioned in my first look at ripping Blu-rays, converting uncompressed PCM and lossless Dolby TrueHD and DTS-HD Master Audio to FLAC for use in XBMC carries a number of benefits.
It's also lossless, so no quality difference.
FLAC is an open, well-documented format and so you're not reliant on reverse-engineered implementations.
XBMC can decode FLAC to PCM and output it over HDMI, whereas it currently can't for DTS-HD.
Hard drive space savings can be significant, especially for PCM soundtracks.
There's little penalty in terms of the time taken to rip the disc either, as it's unlikely that your BD drive can copy data from the disc fast enough for the conversion process to become a bottleneck.
What you need
This process still uses MakeMKV, with the feature enabled in by checking the advanced options box in the settings. TrueHD decoding is built in, but you'll need to find a separate DTS module and point MakeMKV to that.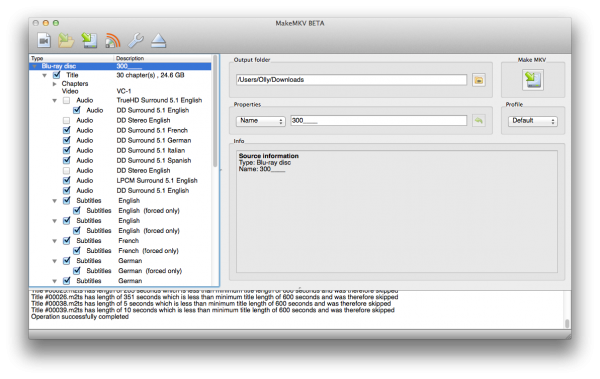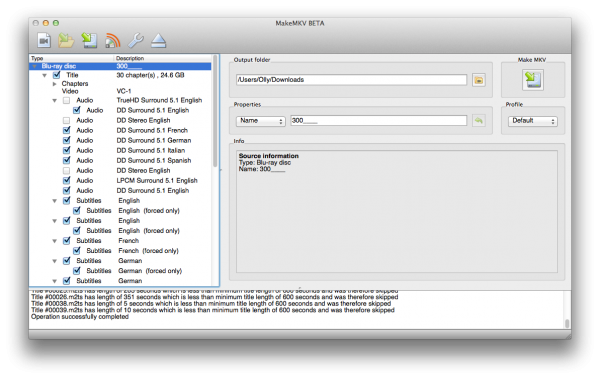 All you then need to do it choose the 'FLAC' preset when ripping a disc. Otherwise the process is identical.
File sizes
I picked three movies representing the three HD audio formats supported on BD. All were ripped to an MKV file containing only the main video, the lossless main audio track, and no subtitles; file size recorded; then passed through MakeMKV again to convert the audio to FLAC. After conversion, MediaInfo was used to verify that the number of channels, sampling rate and bit depth (some versions of the DTS decoder have a bug that will change 24-bit audio to 16-bit, hence the use of 24-bit audio tracks below) were unaffected.
| | | | | |
| --- | --- | --- | --- | --- |
| Movie | Audio | Original size | New size | Delta |
| 2001: A Space Odyssey | PCM 5.1 (48kHz, 24-bit) | 20.10GB | 16.38GB | 3.72GB (18.5%) |
| Blade Runner | Dolby TrueHD 5.1 (48kHz, 24-bit) | 18.22GB | 18.08GB | 0.14GB (0.8%) |
| The Bourne Identity | DTS-HD Master Audio 5.1 (48kHz, 24-bit) | 25.96GB | 25.42GB | 0.54GB (2.1%) |
I noted a few more, with all the data recorded in this spreadsheet. The range of formats reflects the predominance of DTS-HD on Blu-ray these days, but there's a clear 2-3% gain on substituting FLAC there. It doesn't sound like much, but it's half a gig when you're talking about files of 20GB and up.
Conclusion
According to my unscientific tests, then, converting to FLAC delivers a saving in file size over the untouched original track across the board, with a minimal reduction for TrueHD and a handy half-gig saved on DTS-HD. Obviously, since the others are already losslessly compressed, the biggest gains come over PCM, where FLAC can shave 3.72GB off the size of the 2001 MKV – enough for another couple of DVD rips on my HTPC's hard drive.