If you're a lapsed Warcraft player who hasn't logged on for a while you might want to get online now and check out the Hallow's End (Halloween to anyone else) celebrations that started a few days back. I'm probably over-excited about it because it's my first world event as I'm a recent convert to the fold, but it's amusing to confuse new players by giving them pirate, ninja, or other costumes.
As well as having pumpkin decorations and hanging ghost effigies in the middle of all the towns and settlements, you can go apple bobbing for health-restoring apples, and best of all you can go up to any innkeeper and trick or treat them – most of the time you'll get a treat bag with something cool in them, but other times you'll get tricked: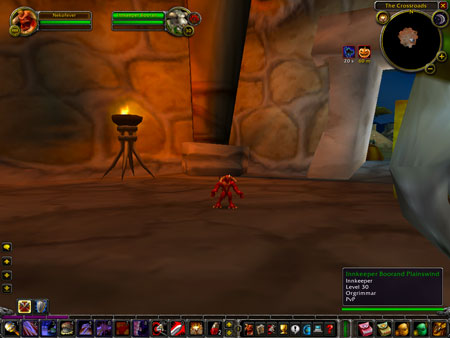 That's the only time it happened to me but I was turned from a hulking tauren warrior into that emasculated little demon thing that couldn't attack or anything. Until I turned back I did the only thing that could be done – ran into the middle of a raid and farted on everyone. Treat bags give you food items like candy bars to restore you health, but you can also get Halloween masks (I'm a tauren but somehow still ended up with a tauren mask) and the best things: wands that let you give other players random costumes. They range from the aforementioned ninja and pirate costumes to bats and weird, disembodied spirits.
It's not going to be long until the Christmas celebrations start (American players would have seen it last year but this is the first one that most European players will experience) so I'm looking forward to that now. This game is awesome, yet also frightening when I found out about the /played command which shows how long you've played. It was one day and six hours when I checked several days ago and I've been scared to look since, and I'm only level 17.