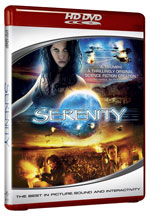 The first HD-DVD players on the market, Toshiba's HD-A1 and HD-XA1, have been out for a couple of weeks in the US now, and although they're not due for release here until the autumn I've just been to see the HD-A1 in action. A friend got one off eBay ($800 including shipping!) so I went to his house to check it out.
While I wouldn't pay that much, I've been considering importing for a couple of weeks since the early players are apparently region free, but also because that old trick of swapping out the $ for £ when setting prices has reared its ugly head again according to HDTV UK. $499 is £285: £214 ($375) less than the UK RRP. Disgusting, even for Serenity and Batman Begins in HD.
But holy crap, HD-DVD looks amazing. Obviously it looks sharper and more detailed than DVD since this is 1080p video (I saw it in 1080i), but what impressed me equally was how fantastic the colours were. It just looks colourful and vivid with a real three-dimensional quality to the picture. No artifacting that I could see either, even during scenes that push DVD like the rainy scenes in The Last Samurai. The landscapes in that movie were absolutely beautiful on DVD, and it was just accentuated in HD.
The menu system is especially cool. After the ubiquitous copyright messages and a good HD-DVD promo (including HD footage of The Matrix, amongst others) Samurai goes straight into the movie – no main menu. Pressing the menu button displays the options for scene selection, languages, and extras along the bottom, and they can be fiddled with while the movie continues uninterrupted in the background. Serenity's slide out from the left very much like the Xbox 360 guide. Very slick.
The main thing that's keeping me from getting on board immediately is the hardware. Besides the fact that it has the most godawful remote on the planet which becomes indecipherable in anything less than direct sunlight, the HD-A1 takes around 30 seconds to go from standby to actually playing the movie which is something that will inevitably be improved with future hardware generations. The other thing is that it's pretty much the same size as my LaserDisc player despite only playing standard 12cm optical discs. Annoying that the only obstacle to HD bliss is my lack of space, but I suppose I'm going to succumb to a moment of credit card-induced monetary inhibition before too long.