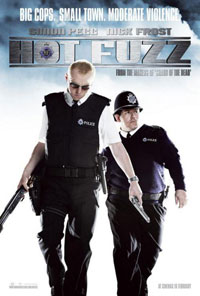 Last night I got to see Hot Fuzz, the latest from Simon Pegg, Edgar Wright, et al. I haven't seen this one hyped up nearly as much as Shaun of the Dead was, but as a Spaced devotee I was always going to see it.
First of all I'll get the bad out of the way. I didn't like Hot Fuzz as much as Shaun and certainly not as much as [sound of angels singing] Spaced. Secondly, a couple of good laughs aside, I didn't think the first half hour was particularly brilliant. That's it. The rest of it's really good.
Once the main plot gets going and we have the wonderful rapport between Pegg and Frost, things are dandy. Like Shaun, it's packed full of references to look out for, and of course Edgar Wright's direction is as fundamental to the humour as the two stars and what's almost a who's who of British comedians and their previous collaborators. There's an unhealthy obsession with Bad Boys 2 and Point Break which is milked for all the humour it's worth (a surprisingly large amount), not to mention the ubiquitous Cornetto's. It's got all the hallmarks of the people who made it, but considering how stylish their oeuvre has been thus far, I'm more than happy with that.
What ultimately won be over, though, was two things. Both are possible spoilers so you might want to save them until you've seen the film for yourself. Number one: flying kick to a granny's face; number two: that the whole thing is basically about militant Daily Mail readers. That gets a thumbs up from me.