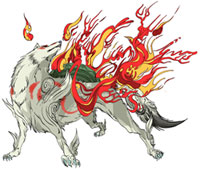 It's hard to believe that I've actually got my copy of Okami here. The last time I saw this game in anything more than video form was back at TGS 2005 and I've been enchanted by it since then, counting down the days until an English-language version. No thanks to SCEE and their February 2007 shite. Imports FTW.
I think most people would by lying if they said that it was anything other than the truly spectacular art in this game that attracted them to it, because it really is beautiful. Like Shadow of the Colossus it maybe pushes the PS2 a bit too far: whizzy particle effects, flying cherry blossoms, and animated cel-shading are all well and good but for all its beauty, it can chug sometimes. Did I mention that the art style looks great, though? It really negates any technical issues for me.
Of course gameplay is more important than graphics and all that guff, so how does Okami play? Pretty well, actually. Probably not as suitably godly as the visuals (more like slightly saintly – say that ten times fast) but it does some unique stuff and complements the handpainted visuals with paint-based gameplay. Enemies are finished off by painting a slash through them, raging rivers are bridged by painting a bridge between the banks, night is turned to day by painting a sun in the sky, etc. Fits the whole art motif perfectly. Did I mention it looks reeeally nice?
This is definitely one of those games that always seems to come along in the last days of a console and becomes one of the defining titles. It'll be interested to see how well the somewhat rudimentary combat holds up throughout the apparent 30-hour length, but regardless this is one game where I actually think that it's worth buying for the graphics alone. I feel dirty for saying that but it's true.