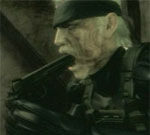 I bought Metal Gear Solid 3 when it was released in the US after the unanimously good reviews and because it was the first hot import after I got my PS2 chipped but gave up a short way into it. It's not that I thought it was a bad game…it's just that the camera system was still in 1998, and while that worked in the angular environments of MGS and MGS2 it felt positively archaic in the organic Russian jungle.
Not only that, but as if the rampant surrealism wasn't weird enough, the game crammed it into copious cut-scenes that I just couldn't deal with, cinematic though they were. Some call it postmodern; I can't remember what I called it because I fell asleep.
The first MGS was just a bit quirky which I could handle and I ended up thoroughly enjoying it, but I don't have to explain the controversy around the direction that MGS2 went with its story (angsty Teen Beat coverboy finds time to discuss King Kong with ex-girlfriend while on top secret infiltration mission) which led to a premature end to my time with that one.
Cut scenes are skippable though, so since MGS3: Subsistence adds a 3D camera I bought a used import copy a couple of days ago (£15 = bargain!) to see whether that puts it closer to my stealth action darling, Splinter Cell. It's an improvement, but the gameplay still just seems so outdated. I really can't tell…is it Metal Gear? Or is it me?