If you're an owner of an iOS device who's looking for a way to show off your hardware, Infinity Blade is the obvious choice. It looks simply gorgeous, and on the high-res iPhone 4 screen the image quality is astounding, giving many 360 and PS3 games a run for their money. When something as good-looking as Rage HD is being outdone so quickly, it suggests that iOS gaming is really going somewhere.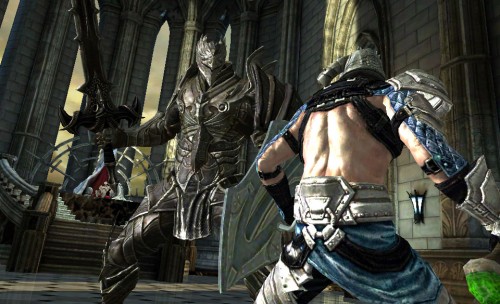 But at the same time, if you're of the opinion that gaming on a phone is no substitute for buttons and a D-pad, it could qualify as your Exhibit A as well. It's limited, largely on rails, consists mostly of the same 20 minutes or so of gameplay repeated infinitely, and the occasional death because you missed the on-screen dodge button isn't out of the question.
I'm firmly in the former camp on this one, though. But beyond being a technical showpiece it's a great little action RPG, ideally suited for playing on a phone and being quite unique in its ability to blend Demon's Souls with Punch-Out. It's also nice to have a game from Epic that looks so different to what we now expect from Unreal Engine games, and the fact that this was developed by Chair, the team behind the similarly impressive Shadow Complex, suggests great talent in that studio.
Rage HD is somewhat disappointing in that, beautiful as it is, it's largely a tech demo with some on-rails score-chasing shooting, whereas Unreal Engine 3 has had its iOS tech demo in the awesome Epic Citadel – and didn't charge for it. Infinity Blade is a big advert for the engine as well, but it's also a brilliant little game that would still be worth buying had it looked like a PS1 game. Having put hours numbering well into double fingers into this already, I eagerly await the promised updates with new loot, new areas and – YES! – online play.