The list of cool stuff happening while I'm in Japan grows. Sony today announced that the long-rumoured white PSP will be released in Japan on September 15th, the day after I get there and the day before the start of the Tokyo Game Show. It's definitely good for the part of me that's planning on picking up PSPs to sell cheaply over here, but I'm not actually sure which version I want. The white ones won't be dirt and fingerprint magnets in the way that the black ones were and will probably more desirable for a time, but I think aesthetically I prefer black.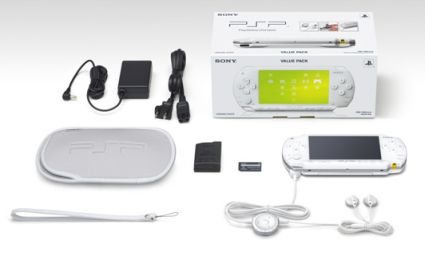 Either way it looks like I'm going to be buying at least a couple of each.
The other good news was the announcement of PSP firmware 2.0. It will fubar any homebrew/emulation developments for the time being, but the web browser is definitely cool as are features like wallpaper and wireless photo sharing. The thing I'm happiest about however is the addition of support for WPA which means that I won't have to drop my security on my wireless network to the swiss cheese WEP. It's not WPA2 which I'm using now, but it's better than nothing and is less likely to cause the wi-fi apocalypse predicted here.