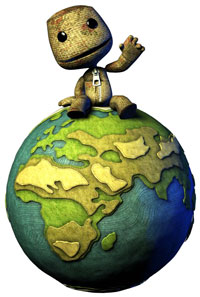 I have a feeling that the work that goes into the best user-created levels in LittleBigPlanet will pale in comparison to the sheer force of will required to get a beta key out of Eurogamer as its servers melt. Having done it twice (the disappointing SOCOM and now this), I'm convinced that I'll be able to build the Sistine Chapel of LBP levels with a few hours of messing around.
Okay, that's probably optimistic, but I have spent a good amount of time playing with this beta/demo – the lines between those two things are now so blurred that even the executable doesn't know which it is – and want to weigh in with some impressions.
First off, for all the user-generated stuff in this game, the beta comes with the first handful of levels from the game's somewhat orthodox 'campaign'. The levels have all been put together by developers and, as such, are more professional than the giant penis levels that are likely to turn up soon – I'm shocked and strangely disappointed that I haven't seen any yet – but it's all done with the same objects and toolsets that you and I will have. Playing through brings unlock after unlock as pretty much anything you come across will shortly be given to you to use in your own creations. And that's pretty much the point of this mode: to provide ideas and the raw materials for you to run wild.
The single-player content (it can be played in co-op, of course) is naturally out of the way pretty quickly, and so the real meat of this becomes what is certain to be the big deal with the full game: the creative side. Even with the silky narration of Sir Stephen of Fry – how is he not a knight, incidentally? – it's quite overwhelming at first, and I sense that a longer stretch of single-player with the tutorials that it brings will help that. But, of course, that hasn't stopped some people.
I can't be the only one who's used to being proven thoroughly average whenever I take a game online, to the point where a performance like this has me assuming that there's something wrong with the leaderboards, and LBP is really no exception. After a day of play, while I was struggling to balance two objects on top of each other, I played one that was a Sackboy-ified bank heist ('The Heist', if you're looking for it), complete with police trying to stop you and a safe combination to remember at the end. Very impressive, and it really bodes well for what people will be doing given the full suite of tools and props and more than 24 hours to play with them.
As a game in itself, I'm still fairly ambivalent on LBP: it feels a bit floaty and imprecise to control, and therefore less instinctive than the great platformers have always been. That's not to say that it's not great fun to play with friends, as it all adds to the chaotic fun when your team ploughs en masse into a flaming pit when your rocket skateboard misses its cue; it's just that the user-generated content and the ability to make your own levels – and, to a lesser extent, the wonderful visual style and music – are the real selling points here. The game isn't about pixel-perfect leaps, although I'm sure there are plenty of aspiring level designers who will do their best to prove me wrong there.
As limited as the beta is, it's a great little taster of what we can expect next month. I've enjoyed my time with the pre-made levels and been impressed again with the ingenuity of the average gamer, and it's clear that we'll see some staggering work done after a few months of playing around. It's not going to be the killer app sales-wise that loads of people seem to think, but what it is is one of the most original and truly 'next-gen' concepts of this generation so far, combining modern console hardware with the 'Web 2.0' philosophy of letting the public prove that they are collectively more talented than any single group of designers ever could be.