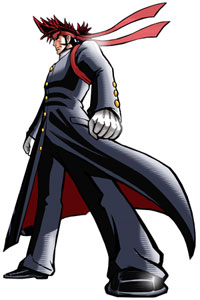 It's finally here! The sequel to the best cult game ever has turned up, and I've been exercising my hot-blooded rhythm soul with it.
Think of it as Ouendan with the improvements made to Elite Beat Agents (3D map, skippable intros, better graphics, saved replay ghosts, four player support) and, most importantly, that quirky Japanese humour and music that made Ouendan so great. I always thought that EBA was very good but lacked that something.
The best that the original had to offer like Kokoro Odoru and Loop & Loop are a high benchmark, and it's not just out of laziness (OK, it is) that the Ouendan soundtrack has been in my car's CD player for the best part of two years. While I'm so far not sure that Ouendan 2 will be the one to displace it, it beats the pants off Madonna and Avril Lavigne. Alas, nothing as immediately memorable as I'd been hoping but far from a bad selection.
All the characters from the original turn up, either as background characters or because they're in trouble again, and Ryuta's cheer squad is joined by a competing team who they stare menacingly at between missions. It of course makes very little difference because much of the game is spent looking at concentric circles and trying to decipher some headscratching storylines (what's happening isn't always as obvious as last time), and I'm sure it wouldn't make much sense even if I could understand it.
It wouldn't surprise me if many of Ouendan's fans have bought this already so I'm waiting for the new chart data to see whether all the importers will make this one register significantly – it's a DS game so I assume it'll be somewhere on the Japanese charts regardless – and if you liked the original, even if you weren't as obsessive as I was back in the day, it's worth buying. Just make sure that you have the original first. No excuses.