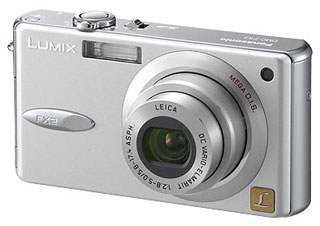 I've had a few days to play around with my new camera, the Panasonic DMC-FX2, and overall I'm very impressed. The first thing I should say is that I'm not hugely knowledgeable about the technical side of photography, despite that fact that my father is a photographer who thought digital photography was a form of blasphemy until a while ago. Therefore these impressions are from the perspective of someone who wants to pretty much point the camera at something and take a picture. I can handle tweaking ISO settings and choosing which flash I want to use, but that's as far as I'm going.
When I was shopping for a camera my specifications were simple. First of all it had to take nice shots – I'm not technical with them but I know a good photograph when I see one, and it had to take nice shots, or at least ones that would need minimal tweaking to look good. The second was that it had to be small since the main purpose of buying it was to take it to Japan and the last thing I want to do is cart some great beast around with me just so I can take some snaps to send home.
I knew that the DMC-FX2 fit the bill, having played around with the 5-megapixel DMC-FX7. It was certainly very small and the image quality is about as good as you can get from an ultra compact without spending vast amounts of money – I only spent just over £200 on the camera and a 1GB SD card to go with it. The picture gets slightly grainy in low ambient light when it sets itself to ISO 400, but that's inevitable in a camera where you can't tweak some of the more advanced settings. In good light or within flash range pictures are detailed and give natural colours, and when I tested the macro mode I was amazed with the amount of detail that it captured.
Reviews of the camera have generally been positive and I can appreciate why. If you just want something to drop in your pocket and take some nice pictures with you can't go wrong with this or its bigger and more-expensive brother, the DMC-FX7. Just make sure to get a bigger card than the included 16MB one: they might as well not have bothered with that.