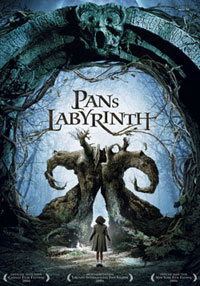 I miss this type of fantasy film. While Lord of the Rings and its derivatives pull in untold amounts of cash, the more intimate ones where someone from our world finds themselves in a mystical land – think The NeverEnding Story or, conveniently, Labyrinth – never seem to have survived the 80s.
Maybe people like massive CG battles and vast, open plains better than a bit of Jim Henson's Creature Shop. My theory is just that LOTR doesn't have David Bowie's scary 80s hair it it. Or David Bowie, for that matter.
Del Toro is one of my favourite directors at the moment, since he clearly has a wonderful imagination and the means to realise it. Here he shows that he's just as adept at serious period drama – much of the film takes place in the early days of Franco's fascist Spain, at a military outpost – but balances it superbly with the fantasy elements. I was frankly surprised at how far the film pushes its 15-rating (clue: there's no sex or bad language), and yet he still maintains the innocence of Ofelia's fantasy world, regardless of what's happening in "reality" (or is it, etc?).
One thing that really blew me away here is the quality of the Oscar-winning makeup work. The all-CGI face of Davy Jones in Pirates 2 had raised the bar for fantasy characters (the best thing in that movie, it's stunning) but Doug Jones as the faun and the Pale Man looks incredible, and all with minimal CGI on both characters. The Pale Man in particular is one of the most sinister movie monsters in years, and no doubt due a Movie Maniacs figure that'll be decorating my shelf in the near future.
I ended up enjoying Pan's Labyrinth so much that I've ordered the beautiful Korean limited edition to go with my UK DVD. We got this film on DVD a couple of months before it's due in the States admittedly (minus DTS-ES 6.1 sound), but how come we don't get special editions like that?