Today was a pretty meaningless day in the grand scheme of things. For most gamers it simply represented the return to the grind after an extended weekend of GTA IV, but it was a sad day for the hardcore gaming community of Bournemouth, and for those regulars from all around the country: today was the last day of trading for the Video Game Centre.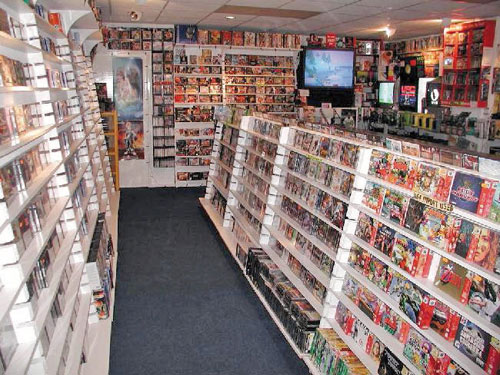 Since it opened in 1993, it was one of the biggest sellers in the country of import games and game-related oddities. No one misses the days of £90 SNES imports, but back in the day this place had a huge pool of regulars who were willing to spend that sort of money on the latest and greatest but also who would spend all their Saturday afternoons in there, just talking games. As someone growing up as a gaming obsessive at the time, it was heaven.
Alas, the Internet happened, as did supermarkets and their loss-leading games, and the pool of regulars started to dry up. Internet forums have become the hangout of the hardcore gamer, and the number of people who are willing to spend only a couple of quid under the RRP for a place to break street date has dwindled.
Looking at that photo, taken circa 2002, just makes me come over all nostalgic. The new games on the TVs, the Shenmue poster on the door there, whole import sections for every console. Next to the TVs you can see the accessories, with everything from the expected official controllers and AV cables to the handy weird stuff from Japan and Hong Kong that's been impossible to find since Lik-Sang disappeared. And above and to the left of the PAL N64 games on the back wall you can see AES and Neo-Geo CD games – where can you get those without braving the bootleg minefield of eBay?
I miss the independent retailers in general. Where is there for people to get knowledgeable advice from people who've actually played the game, to try it before they buy and to get help with importing and modding hardware? And when I do shop in a physical retailer, I like to do it without being given the hard sell on extended warranties, official guides, and shitty, own-brand controllers. This was one of the last ones, and it had been one of the best.
So it looks like I'm going completely online now, and I can be happy with my favoured sites for both imports and PAL games. It's just a shame that I can no longer pop in for a chat about the latest Edge scores…