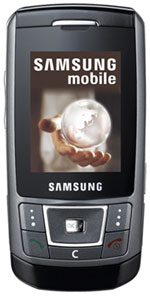 The datestamp on the first photos I took on my Sharp GX20 reliably informs me that I got the phone on 22nd February 2004, meaning that I've owned the same phone for over three years; surely a record in these days where most people don't even keep the same number for a few months, let alone a handset. It's still a brilliant phone and I love it like a pair of comfortable old shoes, but now that the battery struggles to see me through the day it was time to move on.
I went for a free upgrade to the Samsung D900. Not a clamshell as I like, but one of those slider phones that folds down to a svelte 100x50x10. It has a lovely screen that made a screen protector (can't complain when it cost £3.90 for a pack of ten on eBay) a necessary investment with my messy fingers sliding over it to operate many of the features. I shudder to think what an iPhone would be like.
At this point I've been using the phone for a couple of weeks and have a pretty good handle on how things work. It has operating differences that I'm getting my head around – # is now a space rather than 0 on my old phone – and a few annoyances – no custom text alerts unless you use some hacked firmware – and as I work through them I'm finding I like it more and more. The screen looks splendid with a stellar spire in the Eagle Nebula as wallpaper (best wallpapers around on that site), and it's also quad-band which means I'll be able to use it in Japan. Plus MP3 ringtones lets me counter the shitty hip-hop that so many people seem to use with such classics as the Ouendan theme, 'The Opened Way' from Shadow of the Colossus, the Katamari theme, and, of course, the MGS codec sound.
A very decent phone, then. I tend to get comfortable with things like this which makes getting a new phone a bigger deal for me than most, and the fact that I've adapted this quickly can probably be taken as good sign. That's not to say that I've thrown away Ol' Reliable, though. Just in case ;)