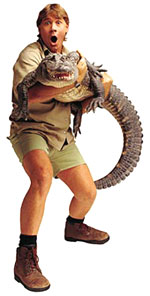 So I'm sure you've heard by now that Steve Irwin, the Crocodile Hunter, was killed yesterday by a stingray while filming a documentary. If you hadn't somehow, now you have. I suppose everyone kind of expected him to get mauled by a crocodile or something one day but it's still a shock when it happened, but at least he had the fortune to die doing what he loved most.
What's made this strike close to home for me is that he was diving off Port Douglas in Queensland when it happened, which is exactly what I was doing almost three weeks ago. Admittedly I wasn't provoking dangerous animals for the purpose of entertainment, but it's a humbling idea that nature isn't all cuddly and friendly and this could happen to anyone. Just sad that it happened to such a fun guy who did so much good work (both on TV and in conservation) and had a young family. One day after Australian Father's Day, no less.
I guess you never know how well-liked someone really is until they die. Irwin's always been popular but there's just been a mass outpouring of grief. It's been the banner headline on the CNN and Fox News sites for the past two days, a treatment that's generally reserved for the Hollywood glitterati and major world leaders. Speaking to friends in Australia, it's like they've lost a national hero which, in a way, they have.
Rest in peace, mate.