Any sane Sonic fan will know by now that the correct way to approach a new Sonic game is with trepidation. If Sonic Team has been insisting that this one will be the return to form without Sonic's furry friends – or worse – and their shit new game mechanics, what it really means is that this one will have new furry friends with gimmicks that it hopes won't be quite as bad as previous attempts.
Even after rubbish like Shadow the Hedgehog and and utter trash of Sonic the Hedgehog, Sonic Unleashed is possibly the most depressing yet. It's not that it's worse than Sonic 2006, thankfully, but what's depressing is how it's such a case of one step forward and two steps back. The Sonic stages are back to basics, brilliant fun, extremely pretty, and exactly what I want from a 3D Sonic game; put a few hours of these together and I'd happily pay the asking price, regardless of what brainless story had been hung on the bones to justify it. These represent Sonic Unleashed's step forward.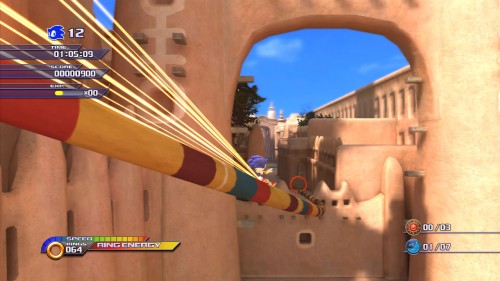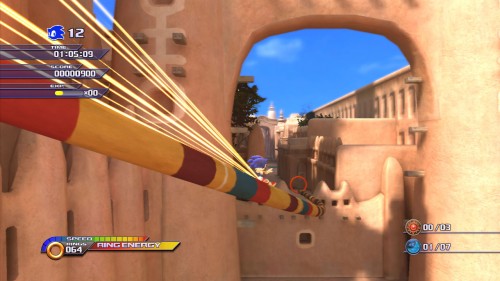 However…
The were-hog was, let's face it, a bad idea from the start. Tell me you didn't hear about it and cringe immediately.
It's a bizarre attempt to bring in some Devil May Cry-style combat, except it's just crap. Mash the buttons to destroy some rejects from the ranks of Kingdom Hearts' Heartless and Twilight Princess's shadow creatures, occasionally getting into a QTE to kill off the bigger ones, and do this for room after room, unless the game decides that some block-pushing would be better. Yes, that's block-pushing puzzles. In a Sonic game.
Bearing in mind that the Sonic stages are over in a few minutes and the were-hog ones can be ten minutes or more, they take up a significant proportion of the game – like more than the Sonic stages.
It's just insane to me that nobody thought during testing, when they'd just finished breaking the sound barrier as the Blue Blur, that being stuck in the same room for five minutes as you dragged a block onto a switch, twiddled some knobs to raise and lower platforms, dragged another block onto them, moved them again, dragged the block to the other one – all so that you could get to a careful, slow walk across a balance beam, which couldn't be more at odds with the Sonic ethos if it tried – wasn't any fun whatsoever. Once again, I'm baffled as to what's happened to the Sega of the Dreamcast days that could seemingly do no wrong.
Throw in boring and largely non-interactive Tornado sequences – you don't even have control over the plane like you did in Sonic Adventure – and it becomes hard not to play the game without shaking your head. I'm beyond really being disappointed because I just don't care any more. It's for the best if we all just forget about Sonic and leave him back in his glory days.
Until the next time Sonic Team promises to take it back to basics…