One of the most surprising announcements at this E3 came from Valve, with Gabe Newell, who has been somewhat outspoken about the experience of PS3 development, confirming a PS3 version of Portal 2, previously only thought to be coming to the PC, Mac and Xbox 360. That in itself isn't all that shocking because Valve games have turned up on the system from other developers, but it's not hyperbole to say that his aside about Steamworks coming to Sony's console has the potential to really shake up the industry.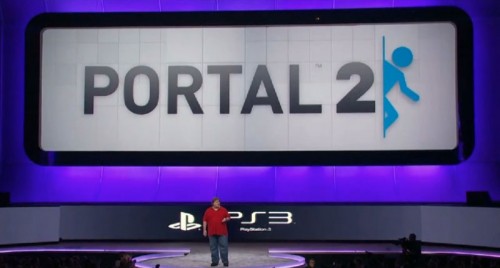 Some of this is still speculation because we don't know exactly which Steamworks features will be on the way. I'd be very surprised if cross-platform multiplayer made it, and Steam Play (buy it on the PC and automatically get the Mac version and vice versa) expanding to the PS3 version would be apocalyptically big, but even if we're looking at the simpler things like automatic updates, community features and Steam Cloud – we know that last one's on the way for sure – Valve is going to go a big way towards removing the barriers between gaming across distinct platforms and moving gaming away from independent walled gardens.
Originally Steam Cloud would simply copy your saves and custom settings to the 'cloud' so that they'd be synced between your computers, and with the release of the Steam Mac client it was expanded to doing that across operating systems, and we have to assume, given that it has no other purpose, that it'll do the same with Steamworks PS3 games. We already have retail PC games that integrate Steamworks – big titles like Modern Warfare 2 and Just Cause 2, for example – and it's entirely possible that future editions will sync your progress across multiple platforms. Saving your game in Call of Duty on your PC at work and picking up on your MacBook on the train home and then finding your progress reflected on your console is insane. It's like living in the future.
I like Xbox Live a lot, but this just couldn't happen on the Xbox 360 as it stands. It's the kind of thing that was promised by Live Anywhere, but what little of that still exists now seems to be coming only to Windows Mobile phones. Besides the fact that I don't and won't own one, it's a great system if you're willing to lock yourself into Microsoft's products, but Steam now works on consoles and, if the rumours of an upcoming Linux version are true, computers regardless of operating system. An open network doesn't always work out for the best on something that should be as plug-and-play as a console – see the disaster that was the Konami ID in Metal Gear Solid 4, as well as how online functionality can still vary wildly between PS3 games – but I think Valve has demonstrated its community credentials on enough occasions to be the one to try this.
The 'one-console future' is inevitable if this medium ever wants to grow up, and simply facilitating interaction between platforms is the first and largest step. We're still going to have PlayStations and Xboxes for the foreseeable future, but Steamworks and independently developed community features like Rockstar Social Club and Battlefield 1943's Coral Sea Challenge that are showing the barest hints of cross-platform interaction are, I think, seriously showing the way things are going. The way things have to go.
I could be wrong and this could turn out to be nothing, of course. I don't think it will, though. This has to happen so let's get it over with.