At the risk of attack from the Nintendo fundamentalists, Mario Sunshine really wasn't that great. It was good, but compared to the almost unimpeachable Super Mario 64 (as far as I'm concerned, the best game of the 32/64-bit generation), it felt soulless and disappointing.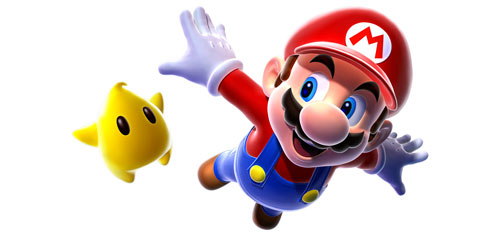 So we arguably haven't had a truly great Mario in over a decade – come on, New Super Mario Bros was hardly Mario 64 – aaand…now that Super Mario Galaxy is here, we do. The hit ratio may have dropped since we had Super Mario Bros 1-3 plus World in five years, but now, even without Miyamoto at the helm, the standards for Mario have been put back as high as they should be.
While I think that those calling this the greatest Mario game ever are simply wrong, the comparisons that have been made between this and Super Mario Bros 3 are apt. Both games took the fairly conservative design of a previous game and just went a bit mental, but whereas the limits of SMB3's madness were enemies with gigantism, flying raccoons, and a tanuki suit that inexplicably transformed Mario into a statue, Galaxy runs with it.
Such concepts as gravity – surely essential to a platform game – become meaningless. And while the race against the penguin in Mario 64 had some context, Galaxy's equivalent is to have a community of penguins who surf on a smiling manta ray. It gives no explanation and clearly delights in the bemused expressions that such flights of fancy will induce. It's a wonderful game that's gloriously fun to just go with. And the space setting, unbounded by any real level structure (you can get completely different level designs within the same galaxy), has let them take a pile of concepts that couldn't be expanded into a whole game and simply use them as single, throwaway levels. It seems almost profligate to use some great ideas in such a manner, but really it's better that they go here than in a minigame compilation.
My one complaint would have to be that the mechanics sometimes can't keep up with the design. Things haven't really moved on since Mario 64's benchmark for a 3D camera, and it sometimes doesn't work with these far more complex level designs. The camera will more often than not be impossible to move manually – I don't remember this ever being the case in Mario 64 – and just occasionally this will leave you looking at Mario's shadow through a solid structure or with an awkward angle on a jump that could lead to oblivion if missed. It doesn't happen all the time by any means, but it happens just enough to annoy.
Similarly, the human brain (or mine at least) can occasionally seem as incapable of keeping up as the camera. Mario can continually flip and take the controls with him, while I occasionally spent half a second flapping around in an effort to work out whether up was still up. Call it my failing rather than the game's, if you like, but the fact is there is some inconsistency, such as when one double-sided surface in one galaxy will let you run seamlessly around the edge and onto the other side, whereas one in the next galaxy that is identical in all but theme will dump you off into a black hole if you try the same manoeuvre. As with the camera, it only happens enough to be an irritation.
It would be churlish of me to call this anything other than a great game because of a couple of qualms, though. This is still by far the best game on the Wii (no jokes, please) and, like its forebears, it will stick in the memory well beyond most of the big hits of this generation. This game reminds you what Nintendo can be when they stop thinking about minigames.