Yeah, yeah, I'm going back on a promise, but hey. The XL is much nicer than the older hardware and the sexy white Mario Kart bundle coupled with a free copy of Super Mario 3D Land meant getting the hardware with arguably its two best games for a reasonable £160. The fact that I was enticed into spending money on Nintendo hardware and actually getting excited about it shows that the regrowth of my enthusiasm for gaming since taking the freedom road continues apace.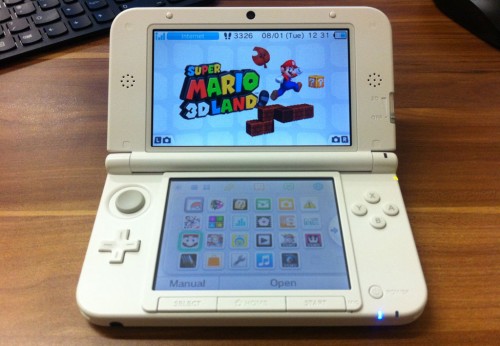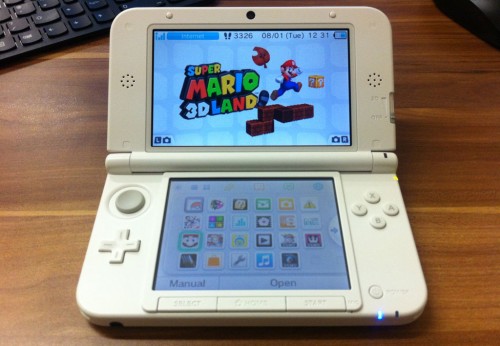 I learnt from the disappointment of getting on board early with the original DS, this time skipping the flawed initial incarnation and the wilderness months when there's bugger all to play, this time getting the superior hardware right off the bat and having a worthy little library to pick from.
Yes, it's still region-coded, which I maintain shouldn't happen on a handheld console and will really hurt if I end up missing out on anything as wonderful as the Japan-only Ouendan on ye olde DS, but overall I'm impressed. I could take or leave the 3D effect and it could really do with a resolution boost on such a large screen – after three years of retina displays, it's hard to go back – but those are my only complaints. It's a lovely piece of hardware and the built-in features like StreetPass are impressively forward-thinking for a company as notoriously backwards when it comes to online as Nintendo. The size of this thing does make it a pain to carry in a pocket, but I still find myself making room for it and going out of my way because I want to StreetPass with people.
It's a shame that idiotic ideas like friend codes and, on newer hardware, time limitations on when adults can buy games keep cropping up to mar Nintendo's reputation, because the 3DS shows what kind of clever ideas the unlimited potential of networked gaming can bring when coupled with a company with a proven bent for innovation and bringing people together to play.
My next project is to get on Ocarina of Time 3D – and I'm embarrassed to admit this – and finish it for the first time. Get some SNES and GBA games on the Virtual Console as well and I'll happily put this down as a worthy purchase.